Events:
Currently Under Construction
Memorial Day at Americas Last Patrol Ranch, Inc.
Saturday, May 25th 2013 at 1:00 PM!
[Library/component-nivo-slider-small/nivo-slider-small.htm]
A 501(c)(19) Non-Profit South Texas Military Veterans' Organization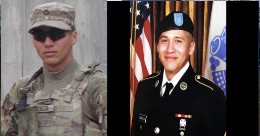 Spc. Kevin Cardoza, US Army
"Army Spc. Cardoza, a 19-year-old Edcouch-Elsa High School graduate, died Saturday in southern Afghanistan when the vehicle he was riding in was hit by a roadside bomb. Four other patrol mates from Fort Bliss in El Paso also were killed in the blast, a deadly toll that shook Cardoza's military base and his close-knit family." ref: http://www.themonitor.com/news/local/article_16ea0f00-b68c-11e2-9448-0019bb30f31a.html
What's New:

Welcome to our new and first web site! If you are having problems with it, please contact our Webmaster. Thanks for visiting!
Events:
Memorial Day Celebrations at Americas Last Patrol Ranch will be held on Saturday, May 23rd, 2015 at 1:00 PM.
---
Memorial Day Guest Speaker:
XX
---
---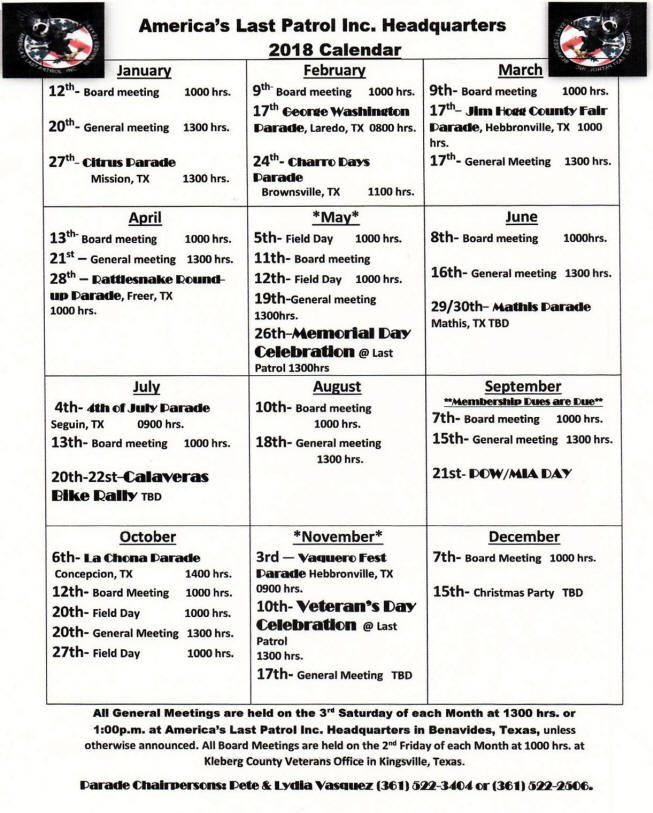 ---
Why Memorial Day Is Observed:
Memorial Day honors the US men and women who died while in the military, serving their country. It is a day
to remember all the people who have served - and are serving - in the armed forces; our surviving veterans; and
to honor those who have died in past wars.

Memorial Day is a United States Federal holiday observed in most states on the last Monday in May
(although its official date is May 30). History of Memorial Day: The origins of the day lie in the American
Civil War. It began in 1868 (May 5), when members of the Grand Army of the Republic requested that
their commander, Civil War General John A. Logan, decorate the graves of their fallen compatriots with
flowers. Memorial Day has since become the day on which the US honors the dead and fallen heroes of all
its wars. (This is also why it is referred to as Decoration Day.)
The Significance of Memorial Day

Why do we celebrate Memorial Day?
The primary reason why people celebrate this special event is to commemorate the lives of U.S. soldiers and
other military personnel who sacrificed their lives and died in honor of their country. Before, people celebrated
this event in honor of the casualties of the American Civil War, particularly Union soldiers. Today, the entire country
celebrates this event to honor all the Americans who have died while taking part in any kind of military action or war.

People usually visit memorials and cemeteries in observance of this very special day. Every 3 p.m. of this day, the
whole country holds a national moment of remembrance. In various parts of the country, people set the U.S. flag at
half-staff position for a significant period. Meanwhile, certain individuals and volunteer groups visit national cemeteries in order to reflect and put small American flags on every gravesite.

Aside from remembering the courageous efforts of deceased U.S. soldiers, many people spend this time with their
families and friends. Together, they cook and eat barbecues while enjoying the presence of one another. Furthermore,
other people hold picnics to celebrate this special day, which is indeed a very worthy cause for national celebration.
People also hold national sporting events during this day such as the Indianapolis 500.

At the U.S. Capitol, organizers set the so-called National Memorial Day Concert. This special show is aired on NPR
(National Public Radio) and televised over PBS (Public Broadcasting Service). In addition to the special music
performances, people commemorate the lives of decreased American soldiers and military personnel. In the past,
people celebrated this special holiday every 30th day of May.
Ref: http://www.whyguides.com/why-do-we-celebrate-memorial-day.html
---
Parade List:
xxxxx
---