About Us:
Currently Under Construction
What and why is there America's Last Patrol Ranch, Inc.
America's Last Patrol is a place where South Texas Veteran's assemble to remember our fellow brothers and sisters in arms, past and present.
[Library/component-nivo-slider-small/nivo-slider-small.htm]
A 501(c)(19) Non-Profit South Texas Military Veterans' Organization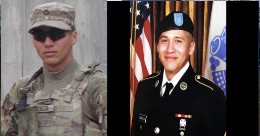 Spc. Kevin Cardoza, US Army
"Army Spc. Cardoza, a 19-year-old Edcouch-Elsa High School graduate, died Saturday in southern Afghanistan when the vehicle he was riding in was hit by a roadside bomb. Four other patrol mates from Fort Bliss in El Paso also were killed in the blast, a deadly toll that shook Cardoza's military base and his close-knit family." ref: http://www.themonitor.com/news/local/article_16ea0f00-b68c-11e2-9448-0019bb30f31a.html
What's New:

Welcome to our new and first web site! If you are having problems with it, please contact our Webmaster. Thanks for visiting!
About Us:
---
America's Last Patrol Ranch, Inc. is dedicated in loving memory to those who fought and died in the name of freedom for our flag and country and are yet accounted for. May this Ranch serve as a basis and constant reminder of our cause and goals…!
---
PURPOSE OF THE LAST PATROL RANCH:
The purpose of the "Last Patrol Ranch" is to promote and to spearhead a movement to convince our government and governments of other nations to: (a) to account for our prisoners of war and our soldiers still missing in action, (b) to launch a peaceful mission to recover our prisoners of war and those missing in action, (c) to honor the memory of the valiant men and women who perished in action, (d) to assist, support, strengthen and educate the surviving Veterans and their families, (e) to serve as a fraternal, patriotic and historic organization, and (f) to promote the ideals of Freedom, Equality, and Justice for all.
ABOUT US:
The following information will give you an idea of what our organization is all about and our purpose.
Our organization was started in San Diego, Texas in 1985 which at that time it was primarily a Pro-Vietnam Veteran organization, and as it evolved and grew, the organization allowed other Veterans to join. Later, it also allowed having honorary (Associate) members which can participate in our activities and programs but are not allowed to vote on issues during formal meetings.
The purpose for which the association was organized is to promote and spearhead a movement to convince our government and the governments of Vietnam, Laos, Cambodia, Korea, and other countries to account for our Prisoners of War (POW's) and our Missing in Action (MIA's) and to include the return of all POW's, the fullest possible accounting for the missing, and the repatriation of remains of those who died serving our country. To assist, support, strengthen, and educate the surviving Vietnam Veterans and their families; to serve as a fraternal patriotic and historical organization and; to promote the ideals of freedom, equality, and justice for all.
We presently have a headquarters located just north of Benavides, Texas on Highway 359, known as America's Last Patrol Ranch. The ranch is situated on ten acres of land which is being leased from Mr. Domingo Ramirez, for fifty years, at one dollar per year. The lease, electricity, phone bill, and up-keep of the Ranch are paid through our membership dues, donations, and fundraisers to support our organization.
The main thrust and pride of our organization is the Last Patrol Memorial Wall which consists of two walls, one is solely for POW's/MIA's and KIA's of all wars while the other wall is for any Veteran that served our country honorably who can have his/her name included on that wall. We ask for a contribution of $20 to place a name on the wall. These monies are used to purchase the brick, mortar, name plate, engraving, and maintenance of the Memorial Wall. We also have a small Chapel, Firing Range, and small temporary dwellings (hutches) built by some of our members, and a helicopter pad which becomes operational at night for Emergencies to serve the surrounding communities. We have the American flag flying twenty-four hours a day seven days a week.
---
Recent Letter to Corpus Christi Caller from Gold Star Mother of Staff Sargent Joseph Frankhauser: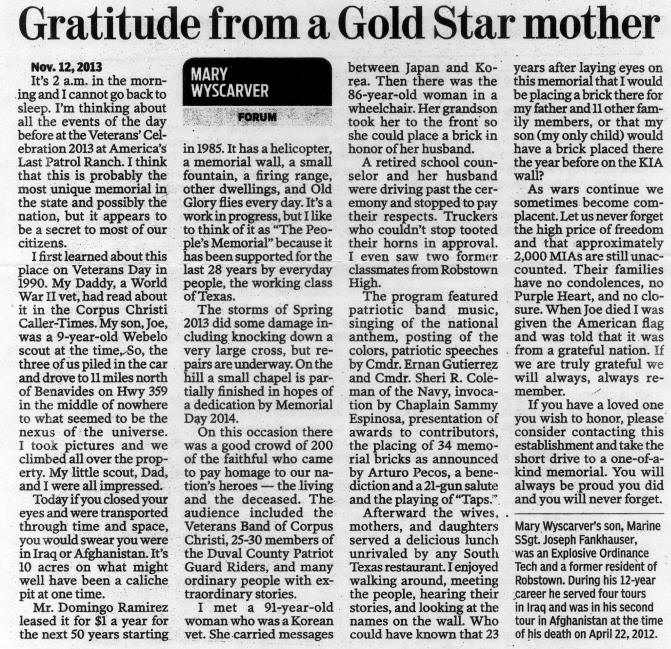 ---
ALPRI Tribute to Cpl. Domingo "La Luna" Ramirez:
Domingo Ramirez leased 10 acres of his land to America's Last Patrol for a 100 years charging them only a $1.00 per year. The outfit unveiled a stone in his memory for this year's celebration of Veterans Day.
video by Chumbe Salinas
---
Local veterans honored by 'Last Patrol'
Posted: Wednesday, November 10, 2010 12:00 am
By Mauricio Julian Cuellar Jr.

Local veterans, both living and deceased, were honored during an early Veterans Day ceremony held at America's Last Patrol Ranch near Benavides Saturday afternoon. Eighteen names were placed brick by brick on the Memorial Wall, honoring those who served this nation and the many who made the ultimate sacrifice. Those who were honored include SFC Rufus A. Avery Jr., Vietnam Veteran, Corpus Christi, Texas; PO2 Robert Barrera Jr., U.S. Navy, Corpus Christi, Texas; SP4 Alvaro Benavides, Vietnam Veteran, Kingsville, Texas; TEC5 Lauro Castillo, WWII Veteran, Robstown, Texas; MMCM Don M. Dunn, U.S. Navy,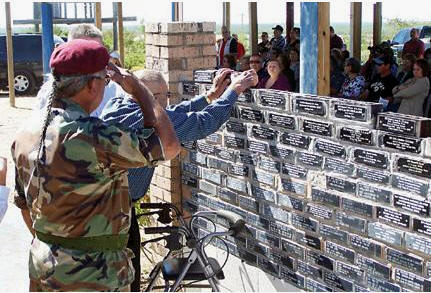 Corpus Christi, Texas; Col. Joseph T. Fordham, WWII, Korea, Vietnam Veteran, San Antonio, Texas; 1stLt. Frederick F. Henry, U.S. Army, K.I.A., Medal of Honor Recipient; Pvt. Daniel F. Galvan, USMC, Omaha, Neb.; Airman Eraul V. Galvan, U.S. Air Force, Omaha, Neb.; Cpl. Reynaldo V. Galvan, U.S. Army, Kingsville, Texas; Pvt. Abraham DeLeon Garcia, U.S. Army, Realitos, Texas; Pvt. Amado Lazo, Vietnam Veteran, San Diego, Texas; Rolando Martinez (Honorary Member), Patriots Band Honor Guard Member, Corpus Christi, Texas; Cpl. Joe Pierce Jr., Vietnam Veteran, Corpus Christi, Texas; LCpl. James H. Prewett, USMC, Lebanon, Corpus Christi, Texas; Cpl. John Henry Pruitt, USMC, WWI, Medal of Honor Recipient, Phoenix, Ariz.; SP4 Luis Ruiz Jr., US Army, Corpus Christi, Texas; and PO1 Dennis Edwin Wilheim, US Navy, Kingsville, Texas. The Patriots Band and Honor Guard of America from Corpus Christi played military music selections throughout the ceremony, as well as posted the Colors, performed the 21-gun salute and band member Eddie Franco played "Taps." As part of the celebration, guest speaker United States Army Col. (Ret.) Dick Pruitt, spoke on the call of duty, what soldiers found there, and the peace all soldiers seek. Pruitt, who lives in Corpus Christi, started as a young Marine, only 15, in World War II. His career spanned the mid-century, where he honorably served this country through WWII, the Korean War and Vietnam War. Pruitt is a member of the American Legion, Veterans of Foreign War, Disabled American Veterans and other veterans' organizations. He attended the ceremony with several members of the Flour Bluff Post, who assisted with Saturday's ceremony. "As veterans, we know the call of duty. We know why we served. The call of service led us to foreign lands, and the realities of war. We found where the elephant danced, we found the truth in battle. We found the fear. We learned the stench. We saw the bodies of our friends, and we saw those of the enemy. We learned the whisper of death from mortars, we heard the thunderous roar of artillery from both sides, and we learned the sound of the bullet striking flesh or snapping close to your head. We heard the screams for a medic, and the numb feeling as our buddies were covered by a poncho, waiting to be sent out," Pruitt said. As an old veteran, Pruitt said, the main thing he is looking for is peace. "I want peace. I want my country to be at peace. I want these little children sitting down here to know peace. I don't want them to have to worry about getting drafted or volunteering. I want them to stay home with their momma and daddy and go to school," Pruitt said. Many veterans were there in person to place their brick on the Memorial Wall. TEC5 Lauro Castillo of Robstown, Texas, went to receive his brick alongside his son, Lauro Castillo Jr. A veteran of WWII, Castillo started his service as an infantryman, but soon was transferred to a radio operator, and by the time he crossed the Atlantic, he was placed in the tank division, manning the 105-millimeter gun. "This was a touching ceremony, very moving," Lauro Castillo Jr. said. "I don't think he (his father) ever expected it." Lauro Castillo, a lively 88-year-old man is hard of hearing now, but still full of his memories. He said the ceremony was exciting and brought forth several feelings and memories. "Seeing people honor me, I thought I was forgotten. It was a great honor. I just don't know how else to express it, I'm really grateful to these people who still remember me," Castillo said. Castillo was raised in Bishop, but moved to Robstown as a teenager and graduated from Robstown High School. He served in the war from 1944-45, seeing more than eight months in combat. Castillo received more than 15 decorations for his actions overseas, including five bronze stars. His service in the war took him throughout Europe, and included heavy fighting in the Ardeen forests of Belgium, which history would later call the Battle of the Bulge. "I was right in the middle. The weather would get to 19 degrees below zero, and we were still fighting. I got like four or five decorations from countries in Europe," Castillo said. "It's been coming back lately, the older I get, like it happened yesterday. I was 22 or 23 when I was driving a tank, fighting through France, Belgium, Holland and Germany. And the 'Bulge.' I was young. I thought back then, everything was easy," Castillo continued. "At first I enjoyed the service, then when I got overseas, and they started shooting at us, that was different. But I was a pretty good shot with a gun. But in war, when you shoot at the target, it shoots back. I'm glad that I did serve though. At the time you're not too happy, because you're getting shot at. You're kind of half-scared, but we didn't run." Ref: http://www.recordstar.com/multimedia/photos/featured/article_ef4a9e35-3e6a-5058-bfba-d5fba5ee3053.html
---
Sgt. Rudy Rodriguez & Sgt. Estevan Altamirano:
---
America's Last Patrol Visits Fallen Soldier's Family...
On Wednesday, Army Spc. Kurt Kern's family released a statement describing him as a positive man loved by everyone, and while the family mourns behind closed doors, America's Last Patrol is working to ensure the family's journey after losing their soldier is as smooth as it can be."It's bad to lose your life far away from your family," said Hector Mercado, a member of America's Last Patrol. Mercado served during the Vietnam era."When I first got out, I didn't want anything to do with the military, but after 9-11, I started getting involved.He works with America's Last Patrol visiting families that have recently lost a fallen soldier."I did lose some friends, and I'm really feeling bad for these families that have lost loved ones over there," said Mercado.A graduate of McAllen Memorial High, Kurt Kern was struck by an improvised explosive device (IED) in Afghanistan on Tuesday along with two other soldiers.He died from his injuries.His family was notified later that same day."The brother and sister are up there now identifying the body," said Commander Ricardo Pena.Pena said Kurt's remains are in Pennsylvania."As soon as they let them know that it's the body, they will figure out when they will ship the body back, and then we will have a get together with them about the flag raising ceremony that we usually have," said Pena.It's a difficult task for the family, but once his remains are identified, Spc. Kern will return home to the Rio Grande Valley one last time.Funeral services are pending the arrival of the remains.
---
America's last patrol honoring fallen marine...
by Katie Lopez
Posted: 04.24.2012 at 6:53 PM
The American flag that has flown high above Commander Ricardo Pena's yard for years is flying a bit lower today—as he honors another fallen serviceman from the Rio Grande Valley. "Boy, everyone of them is rough," Pena said as he lowered the flag. Just last year Pena was named Commander of America's Last Patrol. The group dedicates their time to helping families of fallen servicemen and women cope with the devastating loss. "I've gone through six KIA's (Killed In Action) as the commander," Pena said. Despite that number, Pena said the walk to the front door never get any easier. "That hits you in the heart. That really does get you—that is a tear dropper." Juan Olivas accompanies Pena on many of these visits. He said nothing can prepare a person for that first visit—as the families first start coming together to grieve. "You see people grieving, crying, and breaking down," Olivas recalled. "It is hard to take." The latest casualty of Operation Enduring Freedom is Staff Sgt. Joseph Fankhauser. He served as a marine for 12 years, completed 4 tours of duty in Iraq and was on his second tour of Afghanistan when he was killed. Pena said they have down a flag raising ceremony for all fallen Valley servicemen and woman—but have bi laws to follow. He said they must wait for the OK from Fankhauser's wife, Heather, before they proceed. "We have to go through the steps first," Pena started. "The first step is the wife and if she says it's fine to have the flag raising in McAllen we then go to the mom. If she says fine—then we go to the dad," Pena explained. "We can do it at his house only if we have phone or written agreements that we can have the flag raising ceremony."
Ref: http://www.valleycentral.com/news/story.aspx?id=745915
---
America's Last Patrol Reacts To Fallen Soldier...
Friday, December 30, 2011 - 11:40
UPPER VALLEY- the valley just began to heal but the news of another soldier killed over seas is a reminder that the war isn't over yet. The family of 24 yr. old Kurt Kern received the news of his death Tuesday night. He was killed after an IED exploded near his military vehicle. The news hits home for those who were fortunate enough to make it back alive. "It hits you right in the heart man because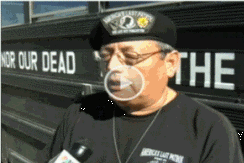 you were there and you hate to see a family suffering for a KIA," said Commander Ricardo Pena. "It's sad because it's this time of the year where everybody is doing celebrations. It's christmas. New year's is coming around. Who would think we'd get a KIA this time of the year?" The news is hard to take for valley veterans especially since this isn't the first casualty this year. Kern's name will join the thousands of fallen heroes at the Veteran's War Memorial in McAllen. His story will most likely go right next to three valley soldiers who lost their lives over seas just months ago. Flags were flown at half staff Thursday in honor of soldier Kern. Pena considers 2011 a deadly year for the valley. Now its all about making sure the families know they aren't alone. "We would like it if people could donate. We don't want money. We're not all about money what we need right now is supplies for the family," said Pena. If you would like to make a donation to this military family you can call America's Last Patrol at (956)756-4695 Ref: http://www.kveo.com/news/americas-last-patrol-reacts-to-fallen-soldier
---
America's Last Patrol Accepting Donations for Fallen Soldiers
POSTED: Thursday, September 22, 2011 - 09:30
UPDATED: Thursday, September 22, 2011 - 17:51
Donations for the families of Sgt. Rudy Rodriguez and Sgt. Estevan Altamirano will be

accepted at Weslaco's City Hall by America's Last Patrol. A large black and white bus will be located in front of city hall and several veterans will be on hand from Wednesday until Friday from the hours of 11 AM to 7 PM. America's Last Patrol Commander Ruben Cordova stated, "Money, anything people can donate. All I need people to think of is what would you need if you had a death in the family and everyone in the family was going to be showing up at your house." At the end of each day the veterans will be splitting all donations down the middle and giving them directly to the families. Members of the Altamirano family are expected to arrive back in the Valley on Wednesday from their trip to Dover, Delaware to receive the body of Altamirano. Ref: http://www.kveo.com/news/americas-last-patrol-accepting-donations-for-fallen-soldiers

---
A CAPITOL BLOG, by TEXAS STATE REPRESENTATIVE AARON PEÑA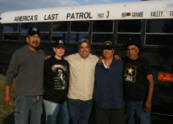 I took a drive to the Delta area this afternoon to welcome the returning members of "America's Last Patrol" who just returned from a trip to Washington. If you remember this is the lead veterans group that organized the 250 mile walk I had the fortune to take part in that started in Edinburg and ended in San Antonio. It was that walk that lead to Washington's public about face on the Veterans' hospital for Deep South Texas. Today they were excited about the progress they have made but yet still remained cautiously optimistic.
Ref: http://www.acapitolblog.com/2007/11/americas-last-patrol-return-from.html
---
America's Last Patrol collects for families of fallen soldiers...
September 23, 2011 9:10 PM
By ERIK DE LA GARZA
Mid Valley Town Crier
WESLACO — As a community mourned the passing of two Mid-Valley soldiers, killed while serving overseas, volunteers from veterans' group America's Last Patrol camped Wednesday outside Weslaco City Hall to host a donation drive on behalf of both families. Sgt. Rodolfo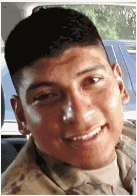 'Rudy' Rodriguez Jr., a 26-year-old Weslaco native, died from injuries sustained Sept. 14 in the Kandahar province of Afghanistan. Day's later, Army Sgt. Estevan Altamirano, 30, died during his fourth tour of duty in Iraq. Vice Commander Richard Peña of America's Last Patrol said the goal of the donation drive was to, "raise as much as possible. "Whatever people can help us out with we greatly appreciate it; it's going to go directly to the families," Pena said. The group accepted donations from the community. Contributions ranged from money and food to hotel rooms intended for out-of-town family members. All donations collected on Wednesday will be distributed evenly between the two families. "We're here to help you; everything we gather today is on behalf of your son," the group told Rodriguez's grieving family, which included his mother, father and aunt, as they arrived to thank the volunteers. Cristella Rodriguez, mother of Sgt. Rodriguez, said the outpouring of support from the community and the gesture from America's Last Patrol was comforting. "Their support is awesome to know that people are here to help us," Rodriguez said. A solemn reminder of a community in mourning was evident Tuesday at a city commission meeting as Mayor Miguel D. Wise proclaimed Sept. 21 "Rodolfo 'Rudy' Rodriguez Jr. Day" before a packed city hall. Veterans of the armed services stood side by side with Veterans Services Director Emilio De Los Santos as Wise read the proclamation. "I know that Weslaco is very patriotic, and we look forward for all the citizens to come out and show honor to this fallen soldier that gave his life for our freedom and things we enjoy today," De Los Santos said. De Los Santos asked the community to also keep the family of Altamirano, an Edcouch native, in their thoughts. "He also was due to come back in November; he also had multiple deployments to Iraq, so we do have another family in mourning," he said. Fire Chief Santiago "Jimmy" Cuellar said the city of Weslaco will accept donations at the Weslaco Fire Station #2, 120 E. Fifth St., until further notice for the Rodriguez family. Anyone wishing to make a financial donation to the Rodriguez family may do so at any First National Bank under account name Rodolfo Rodriguez, Jr. Memorial Fund. Routing Number: 114921415, Account Number: 0281018545 Ref: http://www.themonitor.com/articles/families-55064-last-patrol.html
---
America's Last Patrol Holds Donation Drive for Families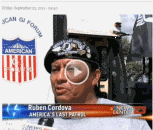 Donations for the families of fallen soldiers Sgt. Rudy Rodriguez Jr. and Sgt. Estevan Altamirano continued to accept goods at Weslaco's City Hall. Veterans from America's Last Patrol spent the day accepting donations from all over the Valley and all donations will be split down the middle for both families. Funeral arrangements for Sgt. Rodriguez are set to take place this Saturday. http://www.kveo.com/news/americas-last-patrol-holds-donation-drive-for-families
---
Army Lt. Zermeño's body back on U.S. soil...
by Daisy Martinez
Posted: 09.27.2011 at 6:42 PM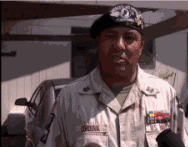 As Action 4 News first reported the death of a third U.S Army soldier killed overseas, within in a two-week period, Commander Ruben Cordova of America's Last Patrol said he was in disbelief. "We were hoping it was just a false alarm," Cordova said. Tuesday, he visited the Zermeño home in Cameron Park to offer condolences and assistance on behalf of all Rio Grande Valley veterans. "It hurts - it's a very hurtful situation, but we're ready and willing to do whatever we need for the families," Cordova said. Brownsville city officials also visited the family Tuesday, and Sen. Eddie Lucio, Jr. called to give his condolences. Lt. Zermeño's older brother, Joaquin Zermeño said the family had been constantly surrounded by loved ones, who spent the day telling stories of the soldier. Cantu said that at this point the only thing the family in the Valley can do, is stay united and wait. "The wife is number one in the eyes of the military," Cordova said, "so they will have to go through the wife for everything, so hopefully there will be some type of coordination between them." Joaquin Zermeño said his family has been restless as they deal with their grief, but said they are trying to accept the young soldier's death, without questioning it. Also a priest, the older brother said all humans make choices, and Lt. Zermeño made the brave choice to serve his country, and ultimately died defending it. Lt. Zermeño now joins the ranks of Sgt. Rudy Rodriguez of Weslaco and Sgt. Esteban Altamirano, as one of the Valley's fallen heroes. "We're all brothers," Cantu said. Ref: http://www.valleycentral.com/news/story.aspx?list=~%5Cnews%5Clists%5Crecent&id=668116
---
Family members of fallen soldier travel to identify body
December 29, 2011 8:20 PM
Naxiely Lopez, Twitter: @Naxiely
McALLEN — The family of a McAllen fallen soldier privately mourned the death of their loved one Thursday after enemy forces killed him Tuesday — less than a month after his deployment to Afghanistan. Two siblings of U.S. Army Spc. Kurt W. Kern, 24, travelled to an undisclosed location in Pennsylvania to identify his body, America's Last Patrol Commander Richard Peña said. Kern's family requested privacy Thursday morning and referred members of the media to Peña,

who is charged with organizing a flag-raising ceremony within the coming days at their home in the 500 block of Hackberry Avenue. "Their request is for us to take care of all the media," Peña said. "As soon as they get back, they're going to give us a call and we're going to find out what's going to happen and when they're going to bring the body back." Kern died alongside two other servicemen from California and South Carolina when enemy forces attacked their unit with an improvised explosive device as they traveled Tuesday through Pakita, Afghanistan, according to a news release from Fort Hood, where he was stationed while in the United States. The McAllen Memorial graduate joined the armed forces in September 2009 as a military police officer after a tight financial situation forced him to leave his culinary arts studies behind, friend Jake Honeycutt said Wednesday. He was assigned to the 720th Military Police Battalion, 89th Military Police Brigade at Fort Hood in September and deployed in support of Operation Enduring Freedom in December, the news release stated. Members of America's Last Patrol, a group of local veterans that honors fallen soldiers, could be seen coming in and out of Kern's home Thursday morning. "America's Last Patrol likes to get involved every time something like this happens," said Vietnam veteran Hector Mercado, who was accompanied by his wife. "We do flag-raising ceremonies, extend our condolences and offer our services for whatever they may need. That's the

least we can do for these soldiers." Mercado said he didn't want anything to do with the military after he returned from war more 30 years ago, but time and a renewed sense of pride encouraged him to once again don his uniform. "These people are going through a hard time," he said. "It's bad to lose your life far away from your family." Kern is the 37th Rio Grande Valley native killed in Iraq and Afghanistan since March 2003, according to Monitor archives. Texas Gov. Rick Perry's office approved a request from Hidalgo County Judge Ramon Garcia to lower all state and national flags in the county and any adjoining political subdivisions to half-staff in honor of Kern's life and his military service, according to a statement released by county spokeswoman Karina Cardoza. Flags should return to full-staff Saturday and may be lowered again once the family makes final arrangements for the funeral services, officials said. Ref:
http://www.themonitor.com/articles/identify-57601-mcallen-members.html
---
Paul Alani of Corpus Christi, Texas
America's Last Patrol, Inc. recognized special guest and resident of Corpus Christi, Paul Alani on Memorial Day. Alani was recognized for his bravery in the

Army and for losing his son in Vietnam. The event featured the showing of colors and national anthem. In all, it was a celebration in recognition of the brave soldiers who lost their lives in past wars. To honor their bravery, a black brick stone with their name and history was placed by family members onto the memorial wall location on the property. Ref: http://www.caller.com/photos/2009/jun/05/56812/
---
Veterans Group Delivers Temporary Flag To Fallen Soldier's Home
Posted: Jan 1, 2012 10:56 PM
Updated: Jan 3, 2012 8:26 AM
MCALLEN - A U.S. flag flies at the home of Army Specialist Kurt Kern. Kern was killed while serving his country in Afghanistan last week. Local veterans put up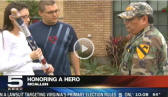 the flag to mark the home of a hero. Richard Pena, the commander of America's Last Patrol, helped Kern's family put up the symbol of sacrifice. "I am not going to leave them by themselves," said Pena. Hector Mercado served in Vietnam. He said Kern never got the chance to be a veteran. "It shows patriotism. (and) The respect they deserve," said Hector Mercado. Veronica Mercado knows what it's like to have a child serving overseas. Her daughter is a Marine. "I can only imagine the pain, because for me, it was heartbreaking to let her go. But to know your kid got killed serving their country. It must be really painful," she said. The veterans hope those who pass by the flag will understand a soldier lived in that house who gave his life in the name of freedom. Kern's funeral arrangements are still pending. His body arrived at Dover Air Force Base late last week. Ref: http://www.krgv.com/news/veterans-group-delivers-temporary-flag-to-fallen-soldier-s-home/
---
Text: