A Place for all Vet's:
Site Under Construction
Header Content Region
Insert text, image or banner ads here, or just delete this text and leave this area blank!
[Library/component-nivo-slider-small/nivo-slider-small.htm]
A 501(c)(19) Non-Profit South Texas Military Veterans' Organization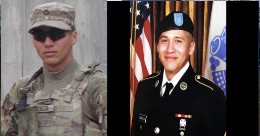 Spc. Kevin Cardoza, US Army
"Army Spc. Cardoza, a 19-year-old Edcouch-Elsa High School graduate, died Saturday in southern Afghanistan when the vehicle he was riding in was hit by a roadside bomb. Four other patrol mates from Fort Bliss in El Paso also were killed in the blast, a deadly toll that shook Cardoza's military base and his close-knit family." ref: http://www.themonitor.com/news/local/article_16ea0f00-b68c-11e2-9448-0019bb30f31a.html
What's New:

Welcome to our new and first web site! If you are having problems with it, please contact our Webmaster. Thanks for visiting!
America's Last Patrol Ranch, Inc. (26 Years of Veterans Community Service)
---
Last Patrol group offers camp for Vietnam Vets: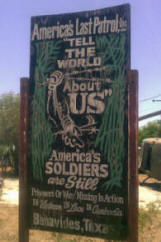 ARMANDO P. IBANEZ Associated Press
SUN 04/12/1987 HOUSTON CHRONICLE, Section 3, Page 12, 2 STAR Edition
SAN DIEGO - A brilliant South Texas sun rose in a deep blue sky over the Last Patrol Ranch, as scraggly huisache and mesquite trees swayed in a slight, northerly breeze.
An American flag floated on a white staff standing by a simple white cross that held a soldier's camouflaged helmet.
Nearby, a group of men in military fatigues barbecued fajitas, while others conversed in small clusters. Three boys played tag, and some women helped prepare the barbecue.
But the scene, in an open field two miles east of San Diego off Highway 44, was more reminiscent of a military camp than a picnic.
The ranch is for Vietnam veterans and their families, said Richard Garcia Yaeger, one of the ranch's founders.
"This is a living memorial where all Vietnam vets can come and talk," said Yaeger, a former Green Beret. "We're all brothers."
The purpose of the Last Patrol organization, he said, is to remind the public that men are still missing in action and that others may be prisoners of war.


"We're the last patrol, and we're looking for our comrades," said Yaeger. "We don't want the nation to forget."
The organization, he said, has about 150 members across the state, as well as a few from other states.
The camp is built under a heavy thicket of huisache and mesquite. There are two bamboo huts; a large assortment of memorabilia from the Vietnam conflict, including rep licas of booby-traps; and a man-made pond with a bridge leading to a religious shrine.
The shrine was built in honor of La Virgen de San Juan.
Many Roman Catholic Mexican-Americans are devoted to the Blessed Mother and often make "promesas," or promises, to visit the shrine in the state of Jalisco, Mexico, or in San Juan, Yaeger said.
"We have a lot of parents that went to San Juan and prayed for their sons" during the Vietnam War, Yaeger said.
One of those parents was the father of Amando Garcia of Alice, who served in Vietnam in 1966-67.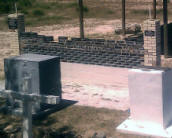 Today, Garcia himself has made a "promesa" for the safekeeping of his son, Amando Garcia Jr., who is in the Army and stationed in Germany.
Garcia said he has placed a picture of his son in the shrine as a sign that his son is under the care of the Virgin Mary.
A red ribbon emblematic of missing servicemen wavered in the breeze as a single candle flickered by the picture of Garcia's son. Other spent candles and religious pictures adorned the simple shrine.
"When he comes home, we'll be going to San Juan," Garcia said.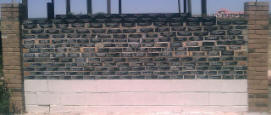 "We don't accept money - only donations, like war relics," the 45-year-old San Diego native said.
The organization, said Yaeger, also was established to give Vietnam veterans a chance to meet one another and to give each other a helping hand.
"Sometimes we joke, sometimes we laugh," he said. "It's good to relate to somebody that knows, who was there. It's always in your mind. You need to talk about it."
Ref: http://www.chron.com/CDA/archives/archive.mpl/1987_455333/last-patrol-group-offers-camp-for-vietnam-vets.html
---
Goodnight Saigon:
---
Latest Facebook Posts...